The Persian Aghd, which is the legal ceremony of the Iranian wedding, is a beautiful and joyful event celebrated with lots of music, laughter, food and love. For Moslem weddings, the Aghd is a legal contract between the man and the woman and extends many rights to the woman that are not common in other legal marriage contracts. Because of the diverse background of the people of Iran, not all Persian weddings are Moslem, and therefore depend on the chosen faith of the couple. Regardless of the faith, the Sofreh Aghd is usually present during a Persian wedding ceremony. These days, with lots of bicultural weddings, this cultural ritual is a beautiful and elegant way to celebrate a union.
During this ceremony, a spread or sofreh is prepared for the bride and groom. Like other ancient Persian traditions such as the Haft Sin sofreh during Noruz, this event has roots in the pagan Zoroastrian faith and does not relate to the Moslem religion. The Zoroastrian faith is based on the four elements of nature: earth, fire, water, and wind, and still has a strong influence on Persian celebrations.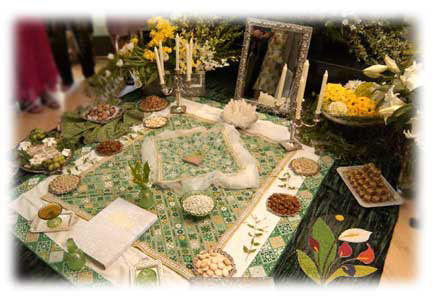 Traditionally the sofreh preparation is taken very seriously because what it contains is believed and hoped to be in the couple's life and marriage. The word sofreh means "spread" like a table or food spread and appears in many Persian celebrations. The spread is typically set on the floor facing the east so that the couple facing the sofreh will face the light.
For some sample spreads, click here.
Traditional music played when the couple walks to the sofreh is called Mobarak Bad ("Bada Bada Mobarak"). This song is a familiar, happy, upbeat tune that is recognized by most Iranians. It congratulates the couple on this joyful event and is played as the couple walks into the room and takes their seats.
Esfand is burned in the Zoroastrian tradition in rituals and purification rites in Iranian homes. When burned, the Esfand bits give off a pleasant odor and smoke similar to incense. The person carrying the Esfand may walk around the couple and carry the smoke near them to make sure all evil is kept away. In addition to this, it is also common to burn some "Esfand" while the couple is making an entrance.
Once the couple is pronounced husband and wife, the bride and groom exchange rings and kiss. At this point, the honey is also presented to the happy couple. Here, the groom dips his finger into the honey and gives some to the bride. She does the same in turn and they are ensured a sweet and happy life together.

Perhaps the best part of the Persian wedding is the sofreh and its significance. The spread contains many items, all to symbolize different qualities that the couple would hope to bring into their new life together. The illustation above is just a simple sample sofreh that you can use to determine where to place your items. You can make the design as elaborate or as clean as you desire. There are many other items you can place on the sofreh and to see a list of them and see what they symbolize, click here
Filed under: wedding
|
2

Comments
---
---